This Muted Process
march 22nd, 2007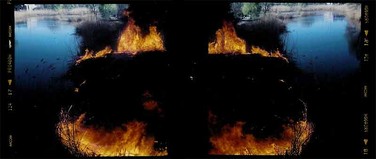 In the last year I have traveled and tried to put down roots a few places: Boston, Detroit, New Jersey, and soon Brooklyn. Settling down has been extremely difficult transition for me because I know that my environment will greatly influence my creativity and general happiness. (In my heart I want to go back home to Texas, but I know the influences of my past are too strong to wrestle with for now.) So I've been searching for the people, the place, and the energy that will support my vision. Each city or town has it's own soul, an energy which I can only stand in the presence of. Like any good relationship I will find a city that invites me in, tells me its secrets, and lets me change it a little.
"Try to Love the Questions" is part journal, part essay, and part soundscape. As most of my work it is self-reflective and vulnerable, which I guess is how you would define my style. The narrative is compiled from long distant phone conversations with my close friends as we discussed finding our identities. As a backdrop I created a sonic scenery from two short compositions I wrote in Boston, two live recordings of a mariachi group I met while in San Antonio last month and ambience from a day I spent listening to the birds calling out to the rain of Austin, TX. Each time I create a piece of recorded music I grovel at the feet of the Recording God. I ask to make my process transparent and let the piece speak for itself. I have always found it easier to make acoustic music and let the engineer work the machines, but for the last five years I have been interpreting the machines myself and I am finally learning some of their language.
The title of my piece "Try to Love the Questions" comes from a quote mailed to me by my best friend after I moved for the third time this year.
Be patient toward all that is unsolved in your heart and try to love the questions themselves, like locked rooms, like books that are now written in a very foreign tongue. Do not now seek the answers, which cannot be given you because you would not be able to live them. And the point is, to live everything. Live the questions now. Perhaps you will gradually without even noticing it, find yourself experiencing the answers some distant day.
We all go through a search for identity. Each one of us deals with this struggle in our own way. Personally, I shape my identity by the people I surround myself with and the ideas I ingest. Every time I travel my perspective changes as I embrace a new place. I'm living new answers to the same old questions and some day I hope settle into answers I'm happy with.
________________________________________________________________________
Since this will be my last entry I'm inviting you to hear my band Teletextile. We occasionally tour and do radio performances so if you want to know about when we are playing live, sign up on our email list through our website or watch for myspace bulletins. Thanks for spending your time reading this. –Pamela Martinez
www.teletexitle.com www.myspace.com/teletextile
(The quote is from the book My Messy Thrilling Life by Sabrina Ward Harrison, which my friend highly recommends, but I have not yet read.)