this entry is from january 03. click here for more information about the curator, and to hear the finished work.
an elocutionary act
october 09th, 2002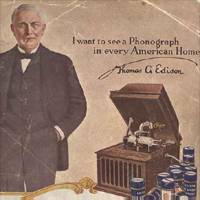 The word phonograph was the trade name for Edison's device, which played cylinders rather than discs. The machine had two needles: one for recording and one for playback. When you spoke into the mouthpiece, the sound vibrations of your voice would be indented onto the cylinder by the recording needle. This cylinder phonograph was the first machine that could record and reproduce sound created a sensation and brought Edison international fame.
August 12, 1877, is the date popularly given for Edison's completion of the model for the first phonograph. It is more likely, however, that work on the model was not finished until November or December of that year, since he did not file for the patent until December 24, 1877. He toured the country with the tin foil phonograph, and was invited to the White House to demonstrate it to President Rutherford B. Hayes in April 1878.
In 1878, Thomas Edison established the Edison Speaking Phonograph Company to sell the new machine. He suggested other uses for the phonograph, such as: letter writing and dictation, phonographic books for blind people, a family record (recording family members in their own voices), music boxes and toys, clocks that announce the time, and a connection with the telephone so communications could be recorded.
comments: