this entry is from december 06. click here for more information about the curator, and to hear the finished work if it's available.
december 13th, 2006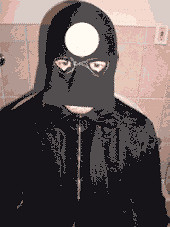 Draw an amoeba-like circle on a sheet of graph paper.
draw lots of them-at medium 2 inch increments apart
Then, circle-outwards with parallel lines like a contour map of a land elevation- AN EXTREMELY
dense concentration of little circles my proximate loves
There was a wonderful sense of love, but also of parting, last night Jon Matt and I said our goodbyes. Matt is going on tour with a mob of other kids in his collective, I think 2.5 bands are going with them -Letters in Binary, Spitting Cobra, and some other combination of the dudes.
There goodbye show was tonight.
I spent a lot of time chatting with the friendlies. I'm very proud to say that I realize my place now in social situations. And I also know how to relax and have a decent convo.
Look up bittersweet in my history books first page of glossary/ definitions and you'll see a big naked picture of me deep throating jon.
chuckle…..
excuse me…. echhk hkemmm,..
I'll post next from San Francisco.
comments: